The size of the misting nozzle includes the size of the screw thread of the misting nozzle, the size of the flow and the size of the particle size of the misting liquid.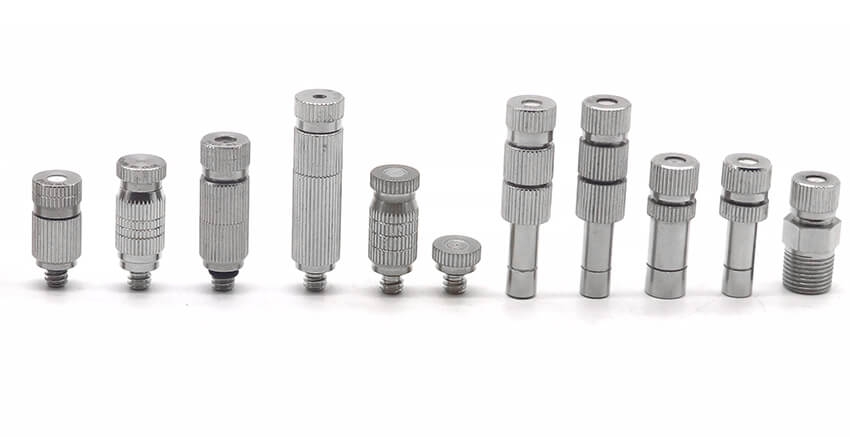 APPLICATIONS:Outdoor cooling, humidification, dust control, high evaporation, spray applications, visual effects, and others
ORIFICE SIZE: .006″/.15mm, .008″/.20mm, .012″/.30mm, .016″/.40mm, .020″/.50mm
THREAD SIZE: 12/24 unc, 10/24unc, 1/8',1/4' etc bsp or npt available
Nozzle flow: 0L/min--1000L/min (common flow: 0.5L/min, 1L/min, 5L/min, 10L/min, 20L/min, 30L/min)
Injection Angle: Common degrees 30°, 45°, 60°, 90°120°, 360° (can be customized according to the requirements of the Angle 0°-360°)
Nozzle material: stainless steel (SS304, 303, 316, 316L), BRASS, plastic (PVC, ABS, FUD)
The above sizes are commonly used. In addition, there are 1.2 "nozzle , 1.5" nozzle , 2 "nozzle nozzle, 2.5" nozzle, 4 "nozzle and other specifications.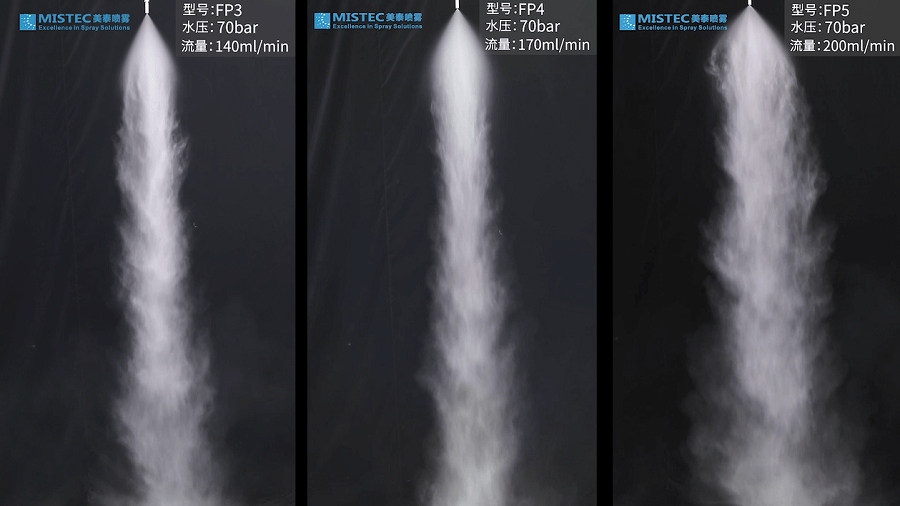 No. 0 nozzle aperture 0.10mm operating pressure 20~70kg/cm spray volume 10~25cc/min
No.1 nozzle aperture 0.15mm operating pressure 20~70kg/cm spray volume 20~46cc/min
No.2 nozzle aperture 0.20mm operating pressure 20~70kg/cm spray volume 49~89 cc/min
No.3 nozzle aperture 0.30mm operating pressure 20~70kg/cm spray volume 80~145 cc/min
No.4 nozzle aperture 0.40mm operating pressure 20~70kg/cm spray volume 95~178 cc/min
No.5 nozzle aperture 0.50mm operating pressure 20~70kg/cm spray volume 130~243cc/min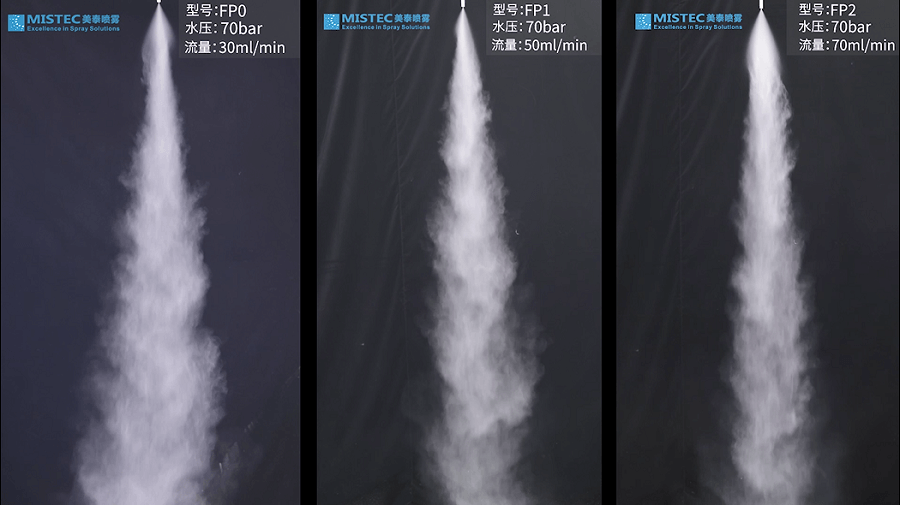 | | | | | |
| --- | --- | --- | --- | --- |
| nozzle | 0 type | 1 type | 2 type | 3 type |
| aperture | 0.10mm | 0.15mm | 0.20mm | 0.30mm |
| Working pressure | 35-70kg | 18-70kg | 15-70kg | 10-70kg |
| Nozzle flow | 0.01-0.03L/min | 0.02-0.05L/min | 0.05-0.09L/min | 0.06-0.11L/min |
| Atomized particle | about 4-10μm | about 5-15μm | about 10-25μm | about 15-35μm |
| Spray Angle | >20 degree | >30degree | >45degree | >60degree |
| Spray material | Ceramic/Stainless Steel | Ceramic/Stainless Steel | Ceramic/Stainless Steel | Ceramic/Stainless Steel |
| Main material | 316 ss | 316 ss | 316 ss | 316 ss |